You are welcome to either custom design your handmade paper which requires a 15 sheet minimum order, or you can choose from paper that we have in stock. Click here to view our existing stock. If you buy sheets from our stock papers there is no minimum quantity and they are $12.00 each. If you custom design your paper: $12.00 per sheet gets you one or two ingredients, with $1.00 extra for every ingredient above that. There are a few ingredients which have their own costs which are in addition to the ingredient count, those are noted below. Paper ordered from this page with the "Buy Now" buttons below will ship 1 week from today. The paper you receive will be very similar to the picture but they are handmade so expect some variation. For different concentration levels of the various ingredients please ask for a custom picture with your specific needs. These sheets measure 18" x 24".
Bachelor Buttons! These great flowers are used in our papermaking, for invitation embellishments, as pressed flowers and as pressed flower stickers. You can even request that we put bachelor button seeds in your custom paper to produce a small garden when planted. Give this paper as gifts, for invitations, bookmarks or even as a renewable wedding favor. If you dig around, you can find all of that and more on our site! This photo was taken of the bachelor buttons we grow every summer!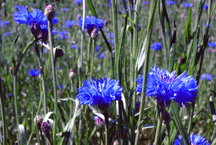 These links will show you how the individual flowers can appear in your paper. Click on each image to view the paper. Head to our paper samples page to see how these can appear in combination. Head to our ordering page to view a sample order. Clicking on each of these images will bring you to an ordering page and a closer view of the paper. PYou can order from these, use these to help design your paper or you can start from scratch. For each custom paper order we use only the flowers you request. Look at our examples and then come up with your own recipe. Email us with your flower choices and we will create a picture of what that combination looks like. Have a look at our ordering page to view a sample proofing page if you are ordering invitations too.
These papers are sold in 18" x 24" full deckle edge sheets. They can also be converted into invitations here in our Seattle invitation studio. We sell our paper in many forms, in full sheets, with cut edges in any size requested and with torn edges to preserve the raw and natural feel of true handmade paper (our first choice). We make each sheet one at a time using a mould and deckle to create the unique quality found only in hand made papers.Made from a natural cotton fiber, our papers are tree free and have a luxuriant feel. Want to feel for yourself? Order an invitation sample! We make every effort to conserve water and resources in making our paper. Looking for a green wedding? We add no chemicals or other agents to ensure that our process is as environmentally friendly as possible. We are happy to offer 100% post industrial waste recycled handmade paper upon request at no additional charge.We have added to our cotton fiber raw material. We now offer Lotka, Abaca, Sabai and Sisal as well as blended options too.*100% post industrial waste used as the raw material in place of first use cotton linters. Limited bits of color visible from previous orders. Softer to the touch than first use!
One sheet of our 18x24 inch paper can be converted as follows:
16 - 4.5" x 6" flat cards or
12 - 6" x 6" flat cards or
12 - 4" x 9" flat cards or
10 - 5" x 7" flat cards or
8 - 6" x 9" flat cards or
8 - 6" x 9" bi-folds or
6 - 6" x 12" bi-folds or
4 - 7" x 12" bi-folds
5 - 7" x 10" bi-folds
Local/International 206.462.7022, Fax 206.462.7024 Toll Free US 1.888.294.1526