Seed Paper Boxes
Seed Paper Boxes Seed Paper Butterflies Seed Paper Cards Seed Paper Circles Seed Paper Hearts Seed Paper Tags Seed Paper Garlands Seed Paper Hexagons
These gift boxes are made of our Seeded Lotka Paper. They are earth friendly because they are made from renewable resources. Since they are embedded with wildflower seeds you can plant these and your garden will flourish with wild flowers.
Click the images to view the ordering page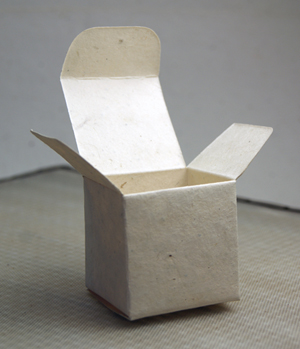 2" Cubes
These cubes are available at a discount if you buy more than 200
Also available in Aspen Green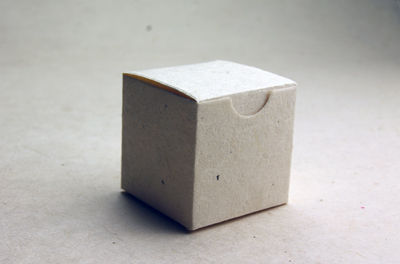 1.75" Cubes
These are made in our Seattle studio and available in a variety of papers.
Our handmade lotka paper is made in the highlands of Nepal by rural craftspeople in an environmentally friendly process with 50% recycled content. The raw material for our paper is the Daphne bush. It is farmed and harvested from 3-4 year old plants that are cut down and stripped of their bark. The plant is not destroyed when cut down; it regenerates from the root. Once the bark is removed to make paper, the stick is dried and used to heat the villager's homes. All of the water used in the paper production is reclaimed and reused. The bark is beaten by hand and boiled to break it down to a pulp (where it is mixed in with recycled pulp and paper scrap collected from the card and envelope manufacturing process) that is then pored into screens to form the sheets. The sheets are then dried in the sun. The whole process is not only earth friendly but also provides a large community with a healthy enterprise.
Our lotka seed paper has a blend of wildflower seeds embedded in the paper; Tolerates partial shade; needs 4 hours a day of direct sunlight and grows to about 3'. The seeds include Snapdragon (annual), Petunia (annual), Beardtongue (perennial), Thyme (perennial), Poppy (annual), Catchfly (biennial/perennial), Maiden Pinks (perennial), and Chamomile (perennial). This blend is specifically designed for those who wish us to print directly onto the handmade seed embedded paper.
If you plant this paper in a pot, or in your garden please cover with just 1/8" of soil and keep moist until established.
Germination may begin as quickly as one week or may take up to six weeks depending on your regional growing zone.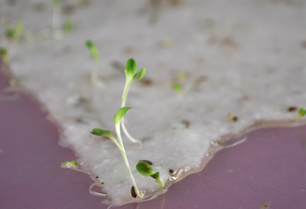 Copyright 2023 All Rights Reserved - Of The Earth 7706 Aurora Ave. N, Seattle, Washington 98103
Local/International 206.462.7022, Fax 206.462.7024 Toll Free US 1.888.294.1526
Paper
Invitations
Kits
Ribbon
Favors
Supplies