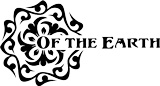 Earth Friendly Handmade Invitations
Fully assembled custom printed invitations, or do it yourself assemble at home styles for sale. For online ordering you can try our ordering form and we will send an estimate in 24 hours and proofs in 2-3 business days. Invitation orders ship one week from proof approval.
Pictured here are different invitation styles. Not only are the attachment (ribbon, fern, sticker) styles interchangeable, but you can pick from over 50 papers for the same cost, or you can even custom design the paper to fit your event. Not all styles require assembly. Enclosures and envelopes sold separately. Printing optional.
If you have any questions about our invitations, please contact us and we can help guide you through the choices. 1.888.294.1526
Invitation Inserts Quick Look Price List Invitation Supplies Clear Printed Vellum Proof Costs
Page 2 invitations shown here: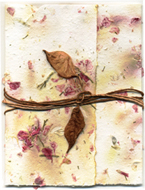 Our invitations are sold as complete sets or as individual components. We sell every part of the invitation as a separate item so you have the opportunity to mix and match. This also allows you to do some or all of the construction on your own. If you would like to punch holes and tie your own ribbon you save $1.50 per invitation. Looking for a green wedding? Our earth friendly approach makes for a low impact event. Recycled components? You bet!
All of our invitation styles can be made with any of our handmade papers. These are mix and match with many do it yourself options.
Once you have selected a style that suits you, move on to our handmade paper page to select the flowers you would like in your paper. We also offer pressed flowers to apply after the paper has been made, look here: Pressed Flower Invitations
Most of our papers contain flower seeds; these invitations become a plantable favor that will grow flowers and bloom into memories of your special event.
Our translucent vellum (clear invitation overlay) paper is made in a chemical free process from wood pulp and cellulose fibers that will naturally biodegrade if planted with our seeded papers.
If you have already purchased paper or envelopes from another company, we are happy to simply print a vellum overlay for you. If you would like to print your own invitations but wish to order paper from us, great! We welcome all orders.
We can print your text directly on handmade paper. Overlay style invitations can be printed at home, or we can print them for you. Papers can be custom made or selected from our available Handmade Paper stock. Invitations can be simple flat panels, or more decorative with ribbons, pressed flowers, stickers, or botanicals.
We use two main fibers for our paper at Of The Earth. One we call Lotka paper and it is made from the bark of the Daphne bush. It is a naturally regenerating renewable resource. All lotka envelopes and paper are 100% tree free and 50% recycled. The paper is also acid free and your purchase will benefit the economic enterprise of rural craftspeople in Nepal. Some of the lotka papers are embedded with seeds and will bloom if planted. We also make a cotton and abaca blend paper in our Seattle studio. This tree free earth friendly paper is made with every effort to conserve water and resources. We add no chemicals or other agents to ensure that our process is as environmentally friendly as possible. We are happy to offer 100% post industrial waste recycled handmade papers as well.

You are welcome to order via email if you can't find the order form that fits your desired invitation.

Copyright 2023 All Rights Reserved - Of The Earth 7706 Aurora Ave. N Seattle, Washington 98103
Local/International 206.462.7022, Fax 206.462.7024 Toll Free US 1.888.294.1526
Paper
Invitations
Kits
Ribbon
Favors
Supplies