Satisfied customers since 1995, in their words here since 2001.
Dear Lori and Kevin,
Thank you so much, I received the order today, the papers and ribbon are exquisite, so beautiful, very well packaged.
Warmest wishes,
Suzanne.
Hi Kevin,
Just wanted to let you know we received the invitations and they are so beautiful. We're thrilled! Thanks again for all your help!
Sincerely,
Maria
-------- Kevin, I tried to post this review on Amazon for you but they would not allow me. This is crazy !! I received my ribbons and I am very pleased with them and wanted to thank you for your great customer service.I have told my friends about your site. Take care and thank you again for sending the lighter ribbon, it's perfect. Best, Linda DeMarco
Kevin,
Sometimes I get an email from Amazon after the fact asking for a review. If I get one again, I'll try once more. Well deserved praise !
Best,
Linda
Hi Kevin,
The invitations were delivered Saturday and we absolutely love them! Thank you so much!
Now I have to wait til July to send them out.
I can't wait to get a punch and start assembling them.

Thank you again and again for all your help.
Thank you so so much!
Superb service!
Very satisfied! Will recommend and keep buying from you.
I just received my order! You guys provide an amazing service! Thank you!

JCPina
Thank you Kevin
What Great Service!!!
Our wedding was on Friday, and everyone loved the seed paper! It arrived on time, and everything was correct. Everyone thought it was so cool, and we did this instead of wedding favors.
Thank you so much!
Best,
Joy and Tyler
Hi Kevin,
I just wanted to thank you and your comany for the beautiful invitations. I've received so many compliments!
Thank you!
- Lisa
O.K. I may need to wait until all the RSVP's come back around the end of August before I order. Thanks for your help. I am still assembling invitations. I ended up triple wrapping the twist ribbon and then twisting open the ends.  They are fabulous!!!
I just wanted to share with you a few pictures that guests took from my wedding. Using the seed paper as place cards worked perfectly! Thank you again for such a wonderful product!
Lauren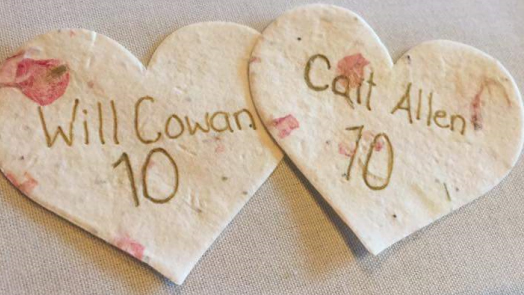 Hi Kevin,
The invitations are beautiful!! Thank you!
I am wondering if you can point me in the direction of where on your website you have the instructions for using the seed paper. I saw it at one point in my browsing. I want to provide some instructions as folks rsvp.
Thanks so much!
Rebecca
Just wanted to say I've received it and these are PERFECT! Is there anything special about the ink used to print I can mention to my customers?
Thank you so much for your great customer service, not to mention, beautiful ribbon. 
Sincerely,
Heather Campbell
Thank you so much for the quick delivery of the paper! Loved it and have already made my invitations using it!
Thank you so much the paper and flowers are amazing. I love them so much, I made my wedding invitations with them and they turned out incredible thank you!
I absolutely love the invitations! They are exactly what I would hoped they would be. And thank you so much for being so wonderful to work with. It made the entire experience painless.
Take care.
LynnD.
Received and using my paper. Thank you again for adding to our wedding and completing my vision. Now...I hope people plant them!
Take care,
Ashley
I just wanted to let you know that my flowers arrived today and I could not be happier. I use flowers in my kaleidoscope wheels and the colors were vibrant and will certainly be a wonderful addition.
Thank you so much,
I will return,
Also the packaging was nicely done,
Hank Barnes
Hi Kevin,
Just received my wedding invitations yesterday. They're absolutely perfect! Thank you so much.
Viet Thi Phan