Stock Printed Ribbon
Here we have our printed polyester satin and our hand dyed silk ribbon available here.. This super soft material is great for your packages and decorations.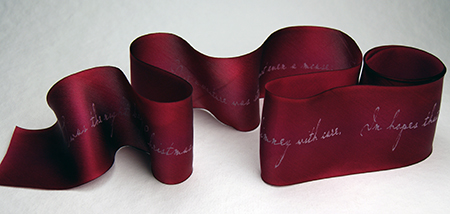 Night Before Christmas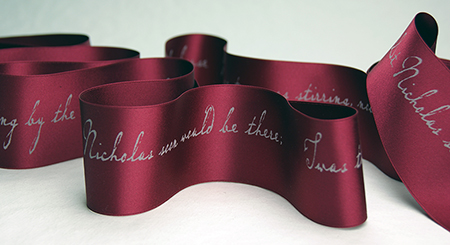 Night Before Christmas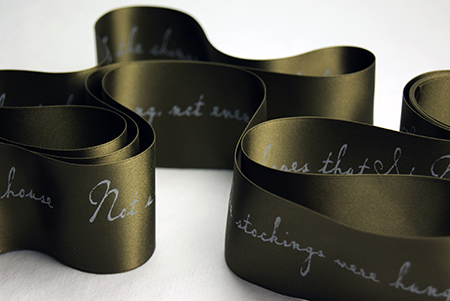 Night Before Christmas

(love honor cherish satin)
Click here for custom printing options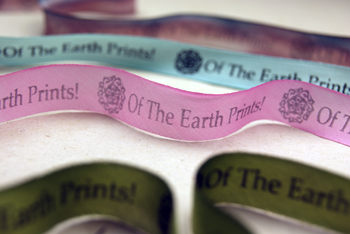 Our silk ribbon is produced by hand in our Seattle studio. The hand dipped process produces a unique look that has subtle qualities that cannot be found in traditional ribbon dyeing. In conventional dyeing the threads are dyed in a vat and then loaded onto a loom where the ribbon is woven together. In hand dyeing all of the action happens while the spool is tightly wrapped, and that pressure influences where and how the dye is absorbed. We hope you enjoy our ribbons as much as we like making them! Our process creates almost zero waste and generates a lasting work of art.
These silk ribbons are colorfast (after washing) washable, dry-cleanable and are 100% silk. We highly recommend ordering samples if your project is color sensitive. We also recommend washing a sample to see how it behaves before working the silk into anything that may be exposed to water.

Copyright 2023 All Rights Reserved - Of The Earth 7706 Aurora Ave. N, Seattle, Washington 98103
Local/International 206.462.7022, Fax 206.462.7024 Toll Free US 1.888.294.1526
Paper
Invitations
Kits
Ribbon
Favors
Supplies