Earth Friendly Favors
The information found here should be just a starting place for your environmentally friendly choices.
Each of us chooses our own path, make your path one of renewal and respect.
Minimizing the environmental impact of the materials used in your wedding is important. For favors, consider selecting an item that will actually be used to help heal the planet. Saplings of native trees may be inexpensively purchased from The Arbor Day Foundation (www.arborday.org), and can be planted by the wedding guests at their own homes or in a public place. Seed packets or bulbs may also be dispersed or planted to better the local ecology, in a garden, a vacant lot or alongside roadways.

A creative way to distribute seeds (using minimal packaging) is when it is embedded in handmade paper. You may even choose to combine ideas, and use your seed-embedded paper as place cards, programs, or for other messages for your guests.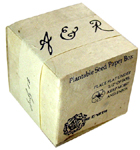 Seed Favor Box - $1.64 each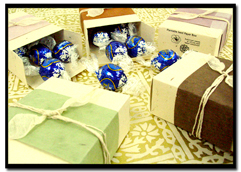 Seeded Gift Box - $2.40 each
These gift boxes are made of our Seeded Lotka Paper. They are earth friendly because they are made from renewable resources. Since they are embedded with wildflower seeds you can plant these and your garden will flourish with wild flowers. There are printed instructions on the boxes letting the receiver know how to plant them.
Click here for the full gift box page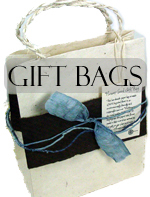 Copyright 2020 All Rights Reserved - Of The Earth 7706 Aurora Ave. N, Seattle, Washington 98103
Local/International 206.462.7022, Fax 206.462.7024 Toll Free US 1.888.294.1526
Paper
Invitations
Kits
Ribbon
Favors
Supplies